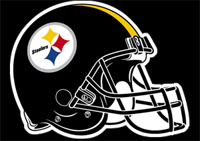 The Disco Trunk went tailgating! A little rain can't stop the funk, and the
Disco Trunk rocked the pre-game party scene at this past Sunday's night game.
Sigh... if only the Steelers had rocked as hard as the Disco Trunk, but we'll
get them next time! Thanks to all those who donated!